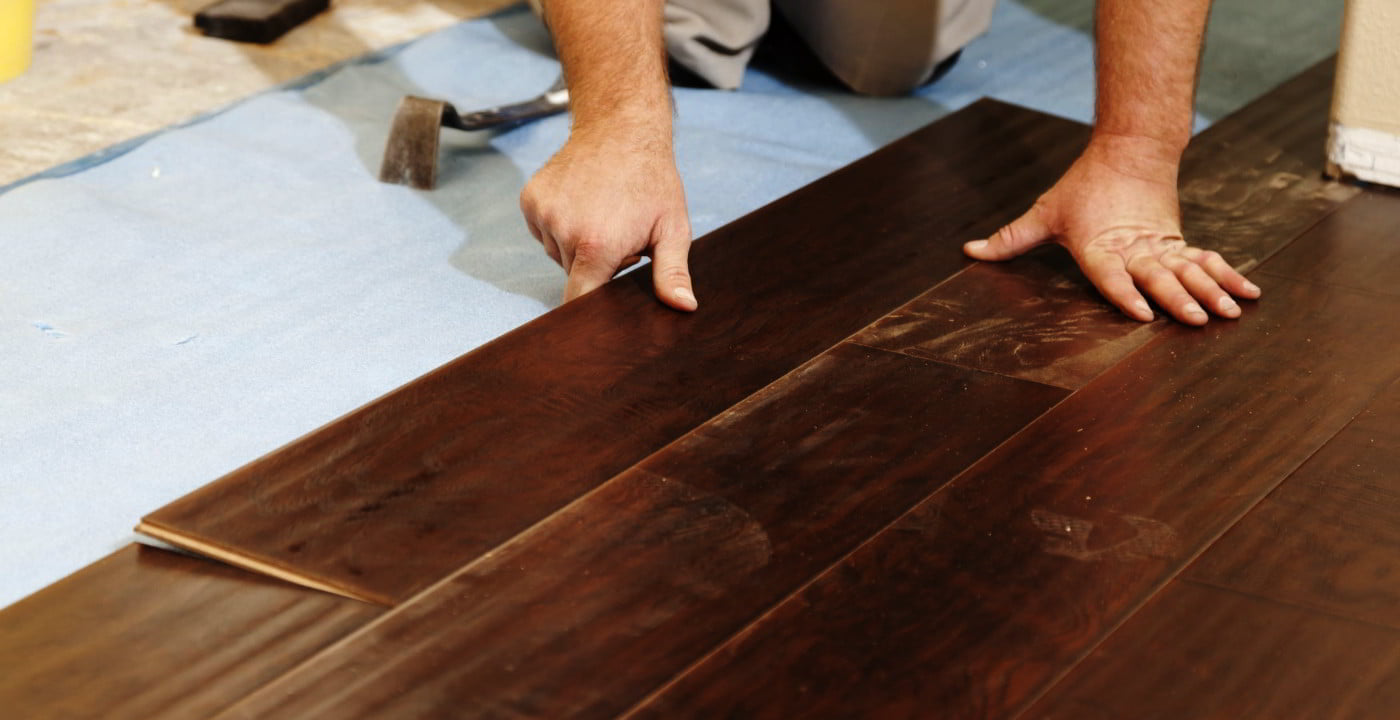 Today, there are a wide range of different floors available for a kitchen. Whether you're looking for a luxury kitchen floor or the best vinyl flooring for a kitchen on a budget, at Kitchen Fitters London, we have the experience to help you determine which is right for you.
Some Top Picks for Best Kitchen Flooring in the UK
Don't have time to read all of this article in-depth? Not to worry! Here are a few of our favourites:
For luxury:

Try stone tiles for a classic, high-quality style.

For budget:

Wood laminate provides a low-cost, easy-to-fit kitchen floor.

For families with pets:

Porcelain tiles are easy to clean and extremely hard-wearing.
For softness underfoot: Luxury vinyl tiles with underfloor heating are both durable and comfortable.
What is the Best Flooring to Have in a Kitchen? – Things to Consider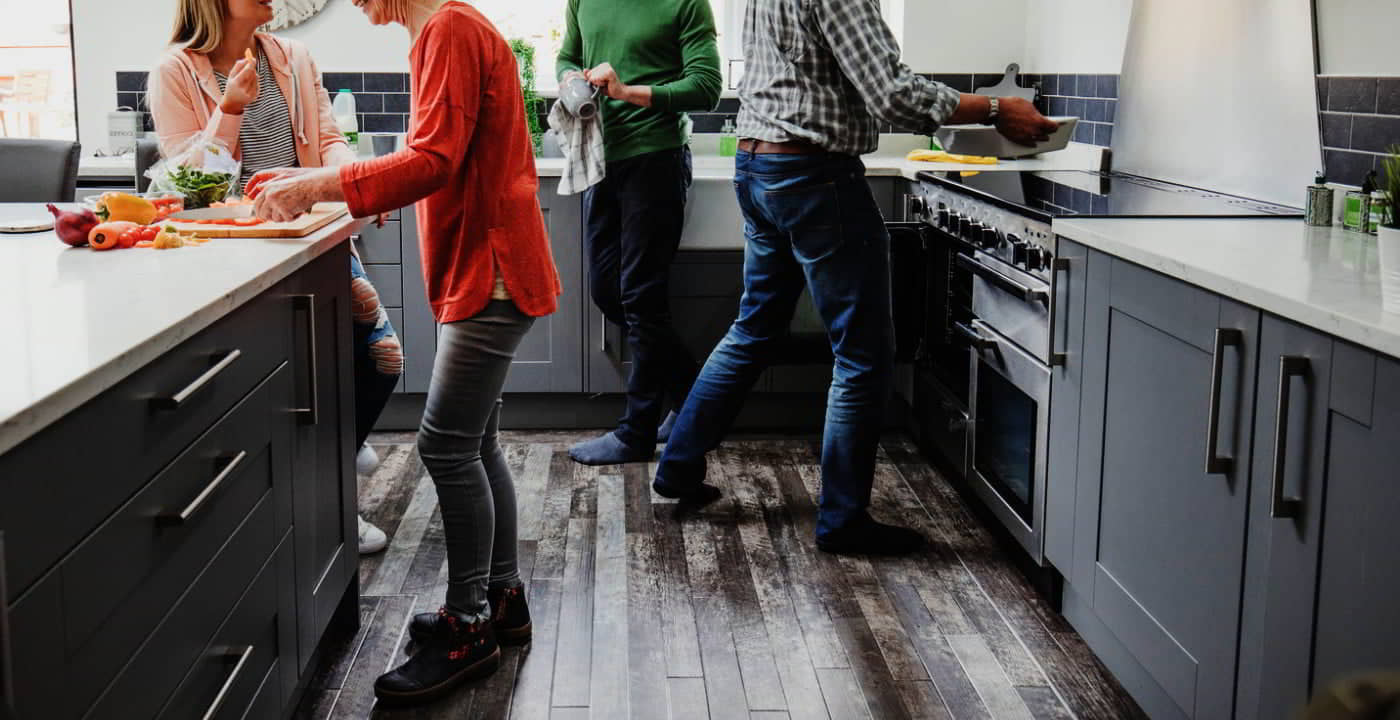 There's no one-floor-fits-all solution to choosing the best flooring for your kitchen. Your household needs are going to need to be taken into account to work out what is best for you. To make the best choice, consider the following:
At the top of most people's lists is understandably going to be the budget they're working with. It's a good idea to get the best you can as a kitchen floor is going to be with you for a long time, but proper budgeting is important.
If your family consists of just a couple, then the footfall your kitchen experiences will be relatively low, but larger families (and especially those with active pets) will want to prioritise durability.
How big is your kitchen? Do you intend to zone your kitchen with different types of flooring? Will there be a dining area as part of the kitchen? These questions will help determine the right kitchen floor for you.
If the kitchen doesn't get much natural light, then a dark floor may not be a good fit. Take the whole kitchen into account when choosing the floor.
Are you considering underfloor heating? This will have an impact on which floors are suitable (or available).
A consideration for everyone when fitting a new kitchen is how it will look. There are plenty of designs to choose from.
Are you planning to fit the flooring yourself? While some kitchen floor types are suitable for DIY fitting, many need the expertise of specialists. Of course, here at Kitchen Fitters London, we're here to help you should you need it!
Tiles are an incredibly popular option when it comes to hard wearing kitchen flooring. With a practically limitless range of designs, tiles are a great choice for those looking to create a specific personal style for their floor. Patterned floor tiles are often a feature of the room that's as decorative as it is functional – consider supersized tiles for a fantastic modern design option that makes the room feel larger.
Tiles come in three main materials: porcelain, ceramic and natural stone, and all three are excellent with underfloor heating. The differences really come down to durability, price and personal choice.
For supremely durable tiles, porcelain is a perfect choice. They are one of the most hard wearing types of floor, are easy to fit, and come in a staggering variety of designs, shapes and sizes.
Many experts consider porcelain to be one of the best all-round flooring options available for modern kitchens. Complementing its durability is the surprising warmth and comfort, even on a bare foot.
Add to that the ability to mimic a number of other options through a well-chosen tile, such as terracotta or limestone look alike, and there's no wonder that porcelain is as popular as it is.
Cost per m2: £20 and upwards
A budget option that's similar in many ways to porcelain, ceramic offers a similar look. It isn't as durable as porcelain and more care needs to be taken to not crack and break tiles as this can result in an unsightly crack or chip, but it more than makes up for that with its budget cost.
Like porcelain, ceramic feels comfortable underfoot and has an impressive range of style options, making it one of the favoured kitchen floor types.
Cost per m2: £10 and upwards
Natural stone tiles are incredibly strong and make for an unparalleled kitchen floor if properly sealed – perfect when combined with underfloor heating. Stone floor tiles are extremely durable, positioning them as one of the best flooring options for high-traffic kitchens. They are, however, typically more expensive than the other two options discussed.
Cost per m2: £30 and upwards
While wood definitely has a unique look, and one that's very desirable, it does have to be properly laid and cared for. There are three main types of wood flooring for kitchens – solid wood, engineered wood and laminate.
Done well, a solid wood kitchen floor will look stunning and is often a coveted design choice. It is simple in theory, made of solid timber planks that are sanded and polished to a smooth shine, but the nature of solid wood can also be its downfall. Untreated, wood is prone to absorbing the moisture from the kitchen and will distort and move from damp and heat.
It is for these reasons that many specialists, including us at London Kitchen Fitters, prefer engineered wood floors.
Cost per m2: £25 and upwards
An engineered wood floor has all the benefits of a solid wood floor but adds a veneer of water-resistant treated wood to help protect the floor from the spills and dirt that are part of daily life for a kitchen floor. Engineered wood flooring is considered the best wood flooring for kitchens plus, unlike solid wood floors, it's also suitable for use with underfloor heating.
NB:
Even though the floor has been designed with a kitchen in mind, it is worth noting that even engineered wood floors have to be carefully cared for. Spills should be immediately cleaned and not left to seep into the flooring, as stains are difficult to resolve later.
Cost per m2: £30 and upwards
The cheapest option for a wood floor, laminate is a very popular choice. It is a good budget flooring that's designed for DIY floor laying, and will provide a relatively durable and low-maintenance floor.
Purists will argue that laminate flooring doesn't have the look or feel of a solid wood or engineered wooden floor, but it does provide a good cost-effective alternative if the wood effect is something that's desired.
Laminate kitchen floors do need to be looked after. Like other wooden floor types, their water resistance isn't 100% and spills should be cleared up immediately rather than being left.
Cost per m2: £6 and upwards
The rise of cheap linoleum during the 70s and 80s gave vinyl kitchen floors a bad reputation that has taken time to shake, but today's vinyl is a far superior product, while still remaining a budget-conscious option.
Modern vinyl exists in two options; standard and luxury vinyl tile (LVT). LVT is designed to imitate more expensive stone tiles or wood flooring and provides a long-lasting alternative to these floors with a similar visual effect.
Standard vinyl floor typically comes as a sheet of seamless vinyl to cover your kitchen floor, cut to fit. It is available in a range of colours and styles, providing the option for an unbroken splash of colour for the floor, or with repeating patterns to emulate tiles.
Standard vinyl is an affordable solution which provides a soft surface that's fully water resistant and quick to lay. Great for budget kitchens for all uses.
 Cost per m2: £20 and upwards
When considering the best kitchen flooring in the UK, LVT is a great all-round option that is incredibly popular. Thicker than standard vinyl, LVT is more durable than the slightly cheaper alternative. This best vinyl flooring for kitchens can emulate the look of more expensive luxury kitchen floors without any of the associated issues. 
LVT is good with underfloor heating, won't immediately break anything that falls on it, is waterproof, and easy to fit – though it should be noted that LVT is more susceptible to damage from sharp objects than porcelain or stone tiling.
 Cost per m2: £30 and upwards
Choosing The Best Kitchen Floor Material
There are many aspects to consider when asking what the best flooring to have in a kitchen is, so it isn't always simple – but we are here to help. Contact us at Kitchen Fitters London and we'll help you choose the best kitchen flooring for you.