Key Takeaways
The cost of fitting a kitchen can differ substantially depending on your geographic location within the UK.

While initial estimates give a broad cost outline, unforeseen structural or electrical complications can increase expenses.

A professionally fitted kitchen offers long-term benefits, ensuring value for money in the long run.
As one of the most frequented spaces in any home, the kitchen acts as a cornerstone for both daily functionality and aesthetic appeal. 
As such, investing in a well-fitted kitchen is not only about luxury but also about enhancing the overall living experience. 
This comprehensive guide is tailored to assist homeowners in understanding the intricacies of how much to fit a kitchen in the UK.
What Are the Benefits of Fitted Kitchens?
Beyond the immediate visual appeal, a well-fitted kitchen offers:
Efficient Space Utilisation
A fitted kitchen maximises storage and counter space, optimising both large and small kitchen areas.
A modern, functional kitchen with the latest in lighting, features and appliances can significantly boost the property's market value.
ℹ️ Did you know that nearly half (42%) of people consider the kitchen to be the most important room in the home?
Custom fittings cater to individual needs, ensuring comfort and accessibility.
Modern fitted kitchens often incorporate energy-saving appliances, which will lead to reduced utility bills and a more environmentally friendly lifestyle.
What's the Price to Fit a Kitchen?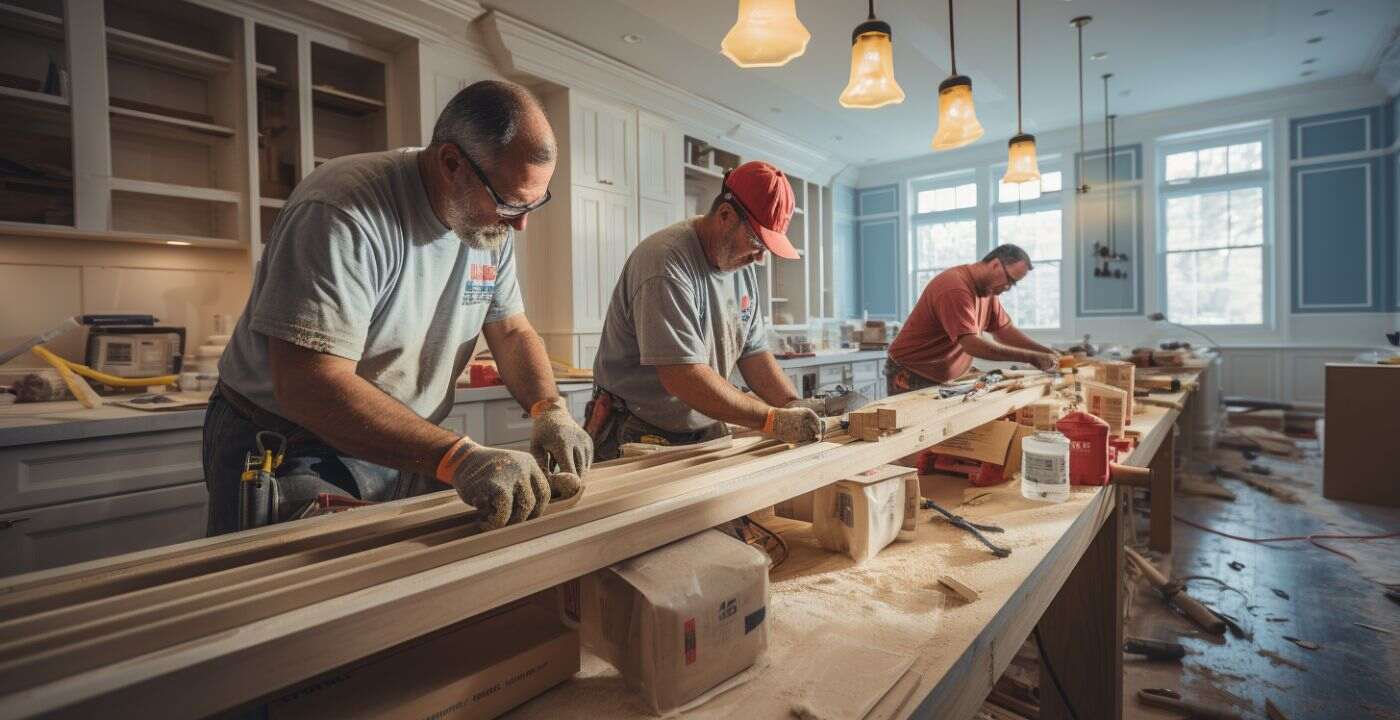 The average cost to fit a kitchen hovers around £3,500, which includes removing the old units, installing new appliances, painting, plastering, and tiling. 
For a detailed breakdown:
Installing a Kitchen Worktop
Cost: £195–£460. Depending on the material and size, this can vary. Laminate worktops, for example, are priced between £35 and £60 per square metre due to their durability and ease of cleaning. Other types of kitchen worktops fittings, such as marble, can be significantly more expensive.
Installing a Kitchen Sink
Cost: £160–£210. 
While good quality stainless steel kitchen sinks start around £50, opting for composite and ceramic sinks can push costs beyond £300.
Installing kitchen Units or Cabinets
Cost: £100–£700 per unit/cabinet. 
The number and type of units, like ones housing appliances, dictate the final price. A simple wall or base unit can be around £120, while an oven housing unit may be as high as £600.
Installing kitchen Flooring
Installing kitchen flooring comes with a number of common options:
Lino Flooring

: As one of the most budget-friendly options, a roll of lino can be a cost-effective choice, often starting at very modest prices, usually between

£10-£40

per square metre.

Vinyl

or

Laminate Flooring

: These are among the

more popular choices

due to their durability and variety of designs available. You can expect to pay between

£45

and

£85

per square metre for good quality vinyl or laminate kitchen flooring.

Ceramic

or

Porcelain Tiles

: For those preferring tiles, expect to pay anywhere between

£10

and

£40

per square metre for

ceramic tiles

and a slightly higher range, around

£15

to

£55

per square metre, for

porcelain tiles

.
Cost: Approximately £65 per square metre. 
Two of the most common materials for kitchen tiling are ceramic and porcelain tiles. Prices can vary significantly. 
Cost: £50–£60 per square metre. 
The area to be covered plays a significant role in determining the final costs.
Cost: £300–£360. 
The price fluctuates based on the design and heating output required.
Kitchen Ventilation/Extractor Fan
Cost: £190–£220. 
Basic extractor fans start from £20, but the price can go up based on quality and features.
Average Price Breakdown - Small/Medium/Large Kitchens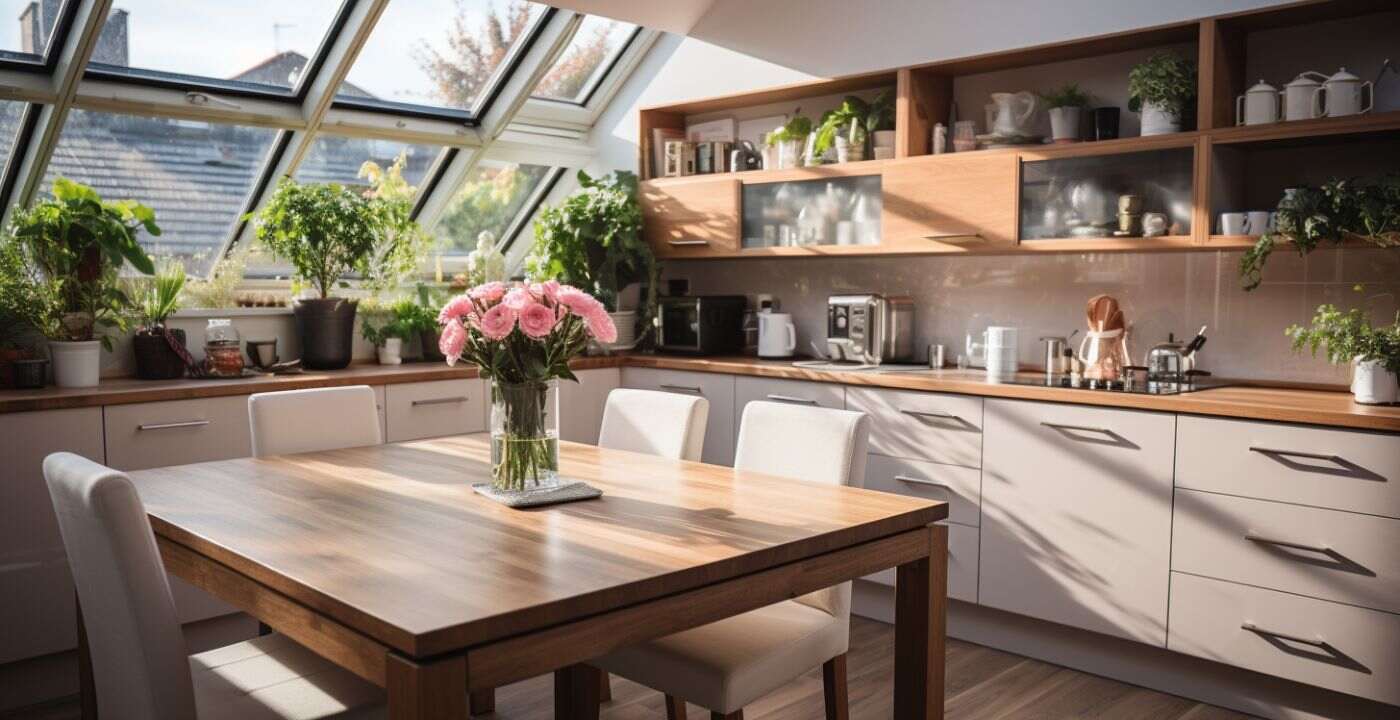 Kitchen Type: Small Kitchen
Price Range:  £1,500 to £2,500
Typically less expensive.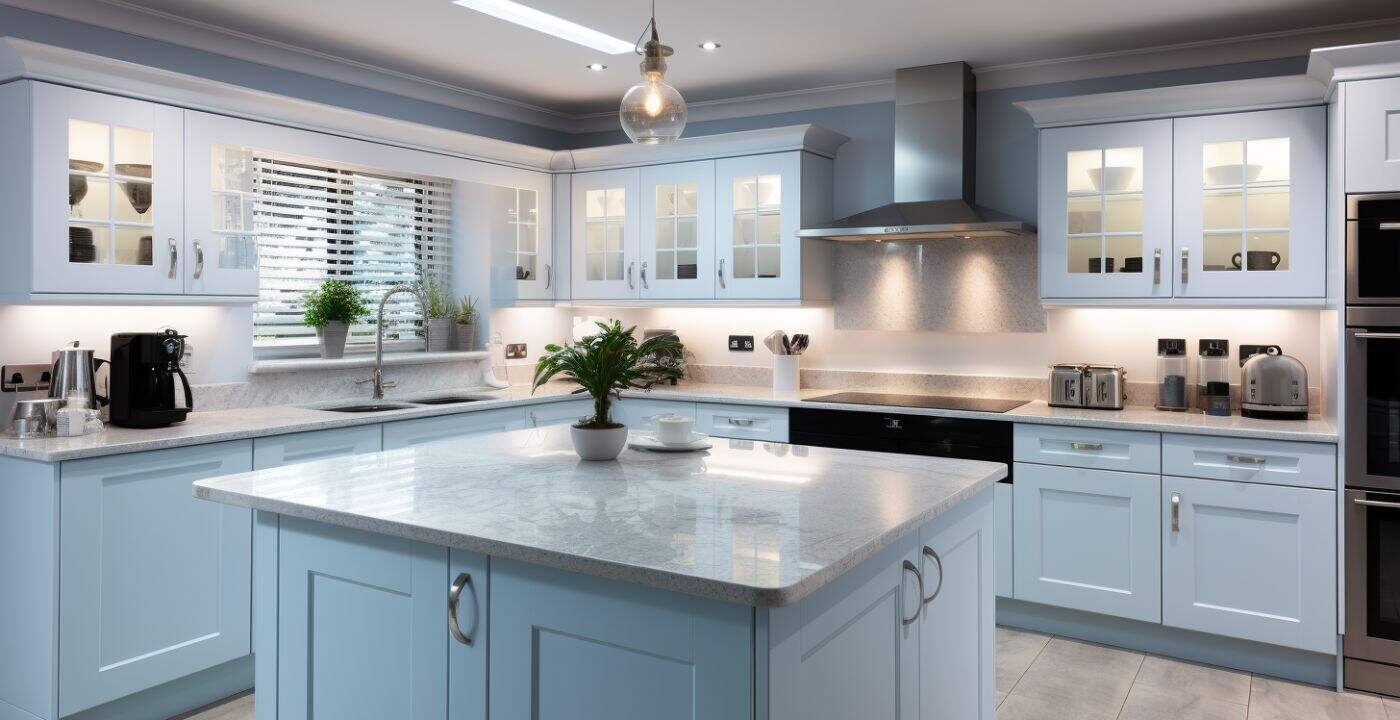 Kitchen Type: Midium Kitchen 
Price Range: £2,500 and £4,500.
Middle ground.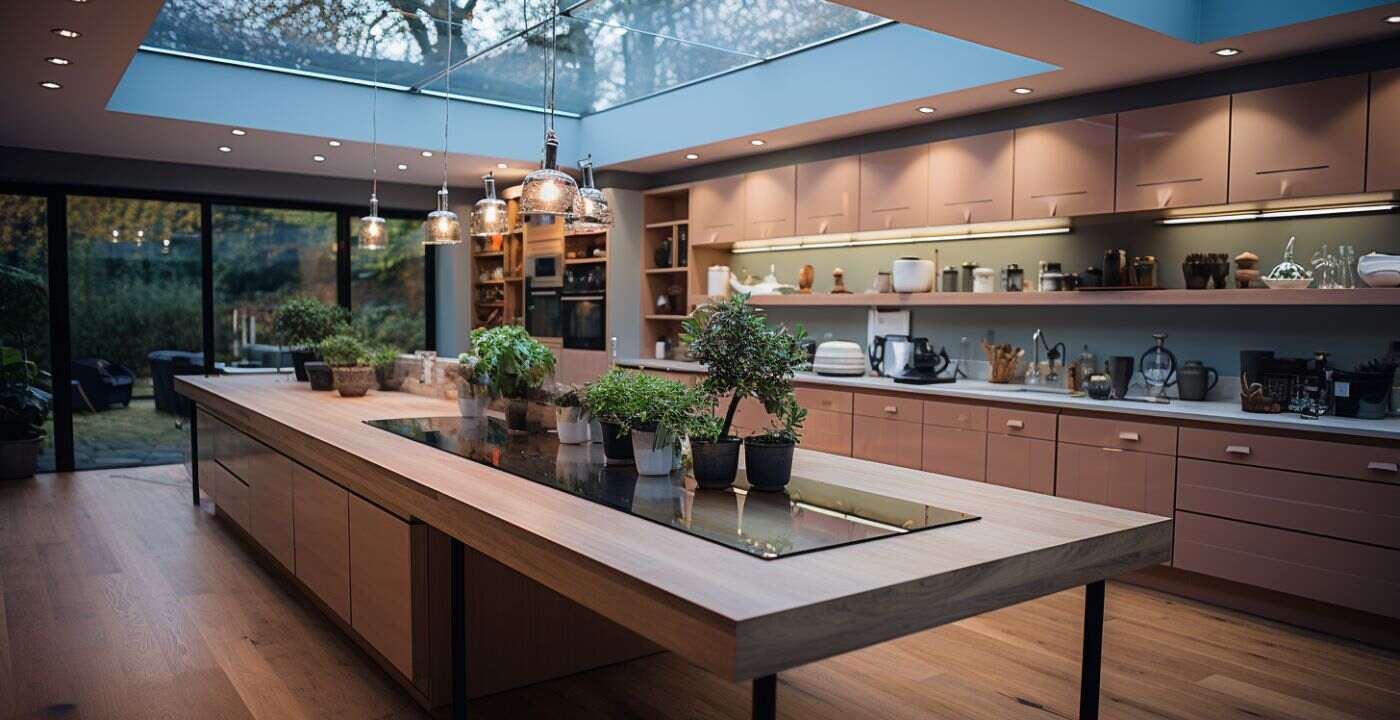 Kitchen Type: Large Kitchen
Price Range: £4,500 or higher.
Often requires more work and materials.
Is it Fitting a Kitchen Worth it?
Absolutely. While the labour cost to fit a kitchen might seem substantial initially, the long-term benefits of a tailored, functional, and aesthetic kitchen space offer value for money.
A professional fitting ensures durability and minimises maintenance costs, making the investment worthwhile.
How long does it usually take to fit a kitchen?
How can I save on waste disposal during kitchen fitting?
Consider dismantling the old kitchen yourself or hiring a skip. 
Alternatively, exploring recycling options at your local council can help reduce costs.
Does the cost of fitting include electrical and plumbing work?
Typically, the quoted cost covers basic installations. 
For specific plumbing or electrical tasks, specialist tradespeople might be required, potentially increasing the overall expense.
Evaluating the cost to fit a kitchen in the UK encompasses more than just crunching numbers. 
Engaging professional kitchen fitters not only ensures that your kitchen meets the highest standards of quality and aesthetic appeal but also guarantees timely and efficient project completion. 
These experts bring a wealth of knowledge, allowing them to provide custom solutions that fit your unique requirements and vision. 
Ultimately, the benefits of using professional services greatly justify the investment, leaving homeowners with a kitchen that's both functional and stunning. If you're interested in fitting a new kitchen in your home please get in touch.