Key Takeaways
Overall ceramic tiles are the best flooring option when balancing cost, durability, and aesthetic appeal.

The average hourly rate for kitchen fittings in the UK is £35 per hour, and up to £50 per hour in London.

Of all the most common flooring materials, marble and granite are among the most elegant and expensive. Laminate, vinyl, and linoleum account for the best budget options.
ℹ️ Much of the cost will be determined in the design phase. Make sure to avail yourself of the incredibly powerful online social resources for design ideas on sites like Pinterest or  Instagram
Kitchen Floor Replacement - Laying The Foundation
Embarking on a kitchen floor replacement journey involves several critical considerations. 
The choice of flooring is not just about aesthetic appeal but also about functionality, durability, and cost-effectiveness. 
Whether it's a full renovation or a simple update, the right flooring can transform the heart of your home.
Kitchen Floor Replacement Costs
The cost of replacing a kitchen floor broadly consists of the materials and labour involved. 
It's important to note that additional expenses may arise from the removal and disposal of old flooring materials. 
These costs can vary depending on the type of flooring chosen and the specific conditions of your kitchen area.
Kitchen Flooring Costs By Type of Flooring
Tiles, particularly ceramic and porcelain, have stood the test of time as a classic kitchen flooring choice. 
They are shaped from natural clay and boast water-impervious properties. Their durability is exemplary, often lasting a lifetime with minimal change in appearance. 
With a wide range of colours, patterns, shapes, and sizes, the design possibilities are endless and the addition of floor heating systems can counteract the cold feel of tiles in winter months.
Ceramic tiles = £10–£40 per square metre. 
Porcelain tiles = £15–£55 per square metre
Natural stone like marble, granite, travertine, and sandstone, offers a unique and luxurious feel to kitchen floors. 
Its durability and distinct style elevate the overall value of your home. While not completely waterproof, applying a good stone sealer can significantly enhance its water-resistant properties, although reapplication is required annually.
£100–£200 per square metre.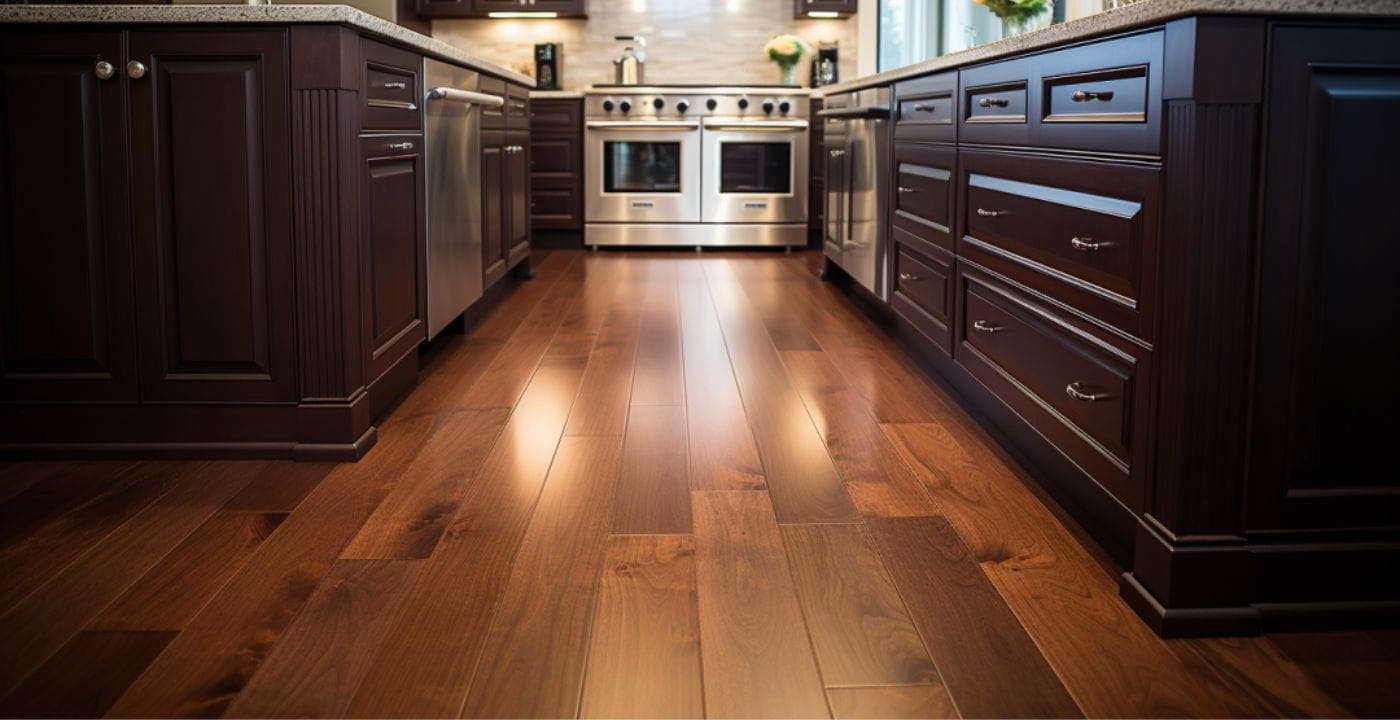 Engineered wood provides the texture and warmth of wood while offering enhanced durability against water and moisture, thanks to its durable top layer. 
For those who prefer the aged look of original hardwood, engineered wood is a great alternative that maintains the aesthetic while offering improved resilience.
Costs vary, but typically you will pay somewhere between £25–£45 per square metre.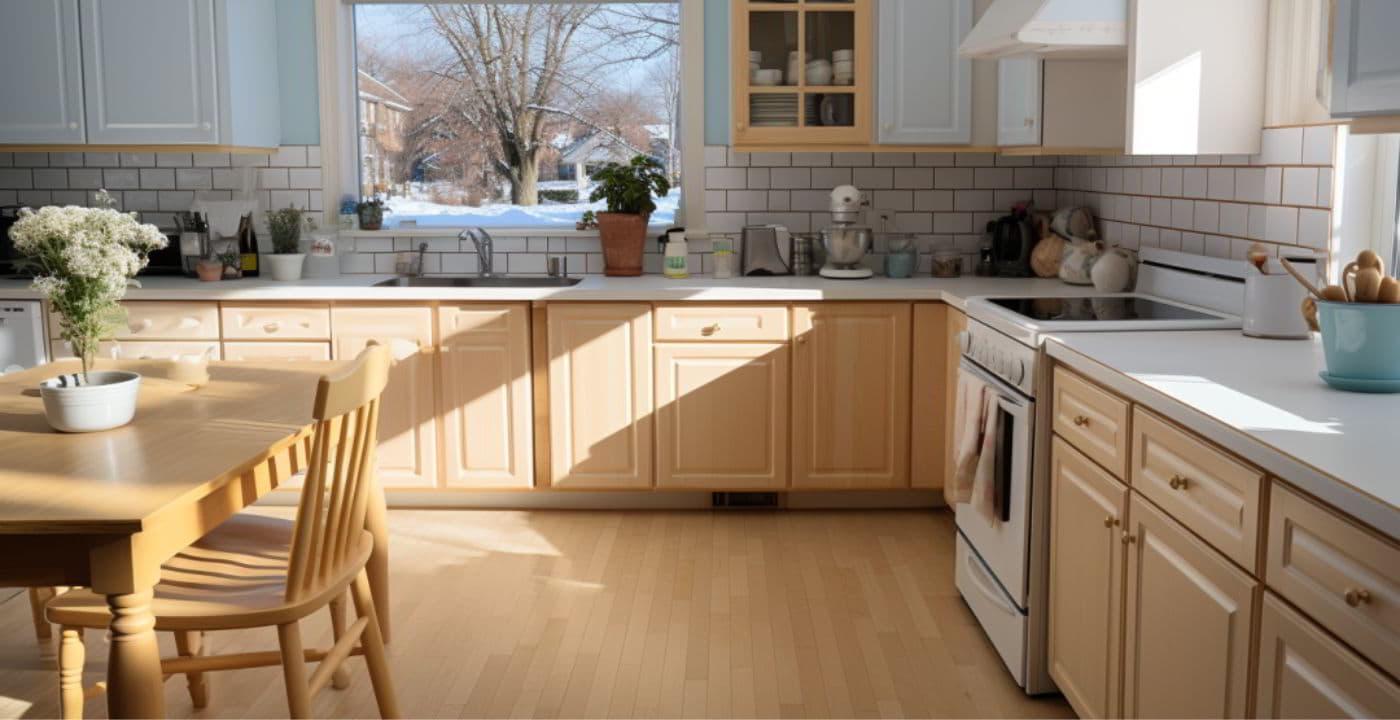 Vinyl flooring offers superb waterproofing while retaining style. It can mimic stone or wood, making it a versatile and affordable option for kitchen flooring.
£15–£25 per square metre.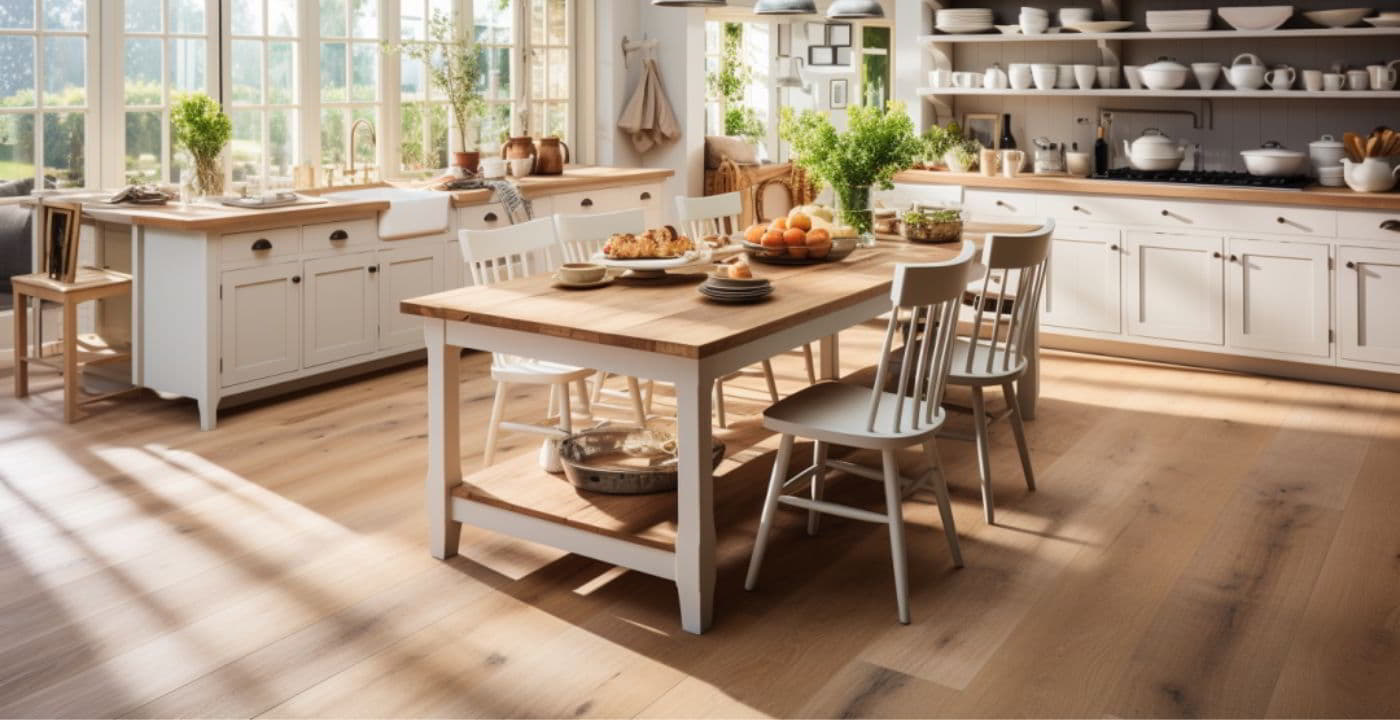 Laminate flooring is a practical, cost-effective solution for those who desire the look of real wood or stone without the associated cost. 
It's easy to install and maintain, making it a popular choice for DIY enthusiasts.
£15–£30 per square metre.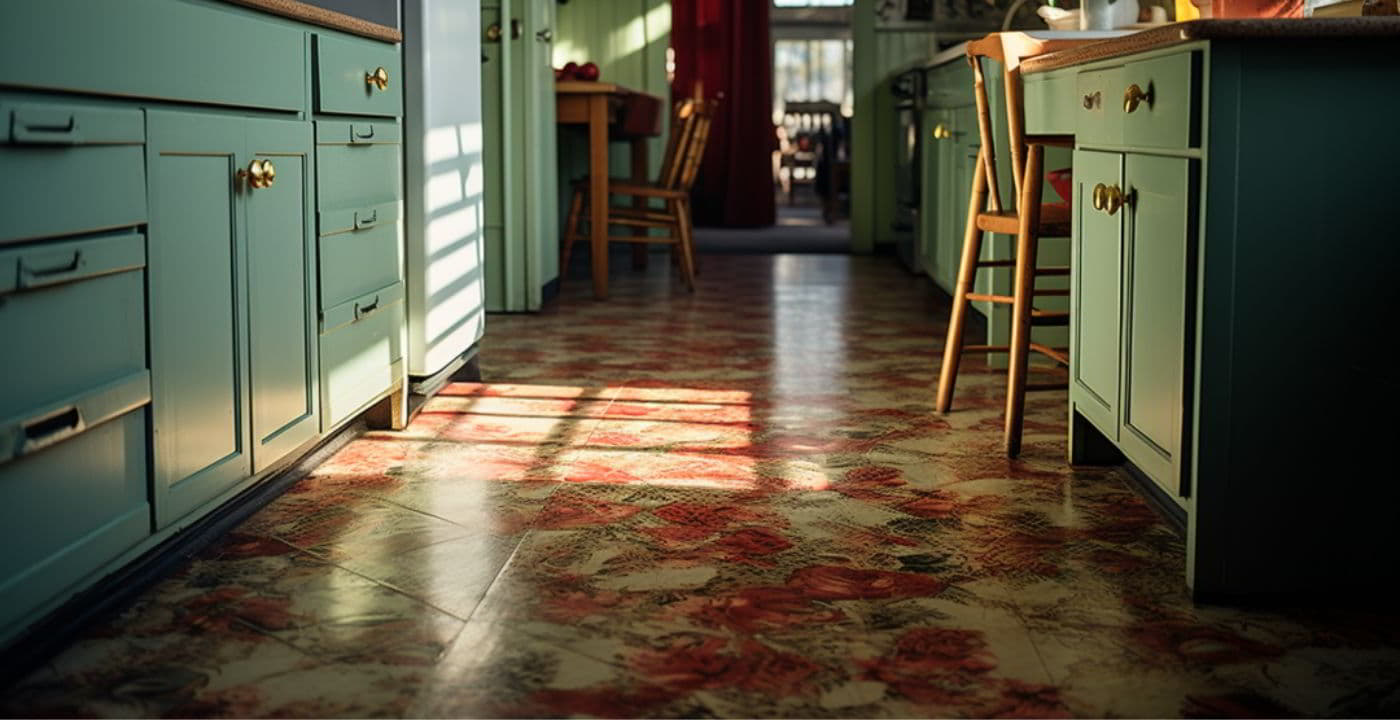 Linoleum, often referred to as lino, is a resilient, eco-friendly flooring option. 
Made from renewable materials, it's a great choice for those looking for an affordable and  environmentally sustainable option.
ℹ️ If you want an environmentally-friendly flooring option, consider incorporating recycled or reclaimed materials into your kitchen flooring. This provides your home with a new eco-friendly floor that is unique, cost-effective and visually striking.
Kitchen Floor Replacement Labour/Installation Costs
We have calculated the national average daily rate for a kitchen floor fitter to be roughly £275/day (8-hour day) or £35/hour. 
In London, professional services like plumbers, carpenters, electricians, and kitchen fitters will typically charge anywhere from 20%–40% above the national average rate. 
As such, in London, you can expect to spend between £330–£385/day or £42–£49/hour on labour costs for a new kitchen floor.
Frequently Asked Questions (FAQs)
What is the cheapest way to replace a kitchen floor?
Lino is usually the cheapest commonly used flooring material, followed by vinyl and laminate. 
If you are able to install the new floor yourself or have family or friends who could do so, that will significantly reduce the overall costs.
Can I replace the kitchen floor without removing cabinets?
Yes, it's possible to replace flooring without removing cabinets. It will require precise cutting and fitting around the cabinet bases, but the payoff could be a significant amount of both time and money being saved.
What is the best flooring to put in a kitchen?
For the best combination of durability, elegance, low-maintenance and cost we would recommend ceramic tiles as the best flooring overall.
Kitchen Floor Replacement - Starting on the Ground Floor
Replacing your kitchen floor is a significant but rewarding undertaking. It not only enhances the aesthetic appeal of your kitchen but also contributes to the functionality and overall value of your home. 
With a variety of materials available, each with its own set of advantages and costs, you can choose the perfect flooring that suits your style, needs, and budget. 
Remember though, as appealing as the cost savings from a DIY installation may be, investing in professional installation can ensure a flawless finish and long-lasting results.
Ready to get a new kitchen floor in your London property? Get in touch today.