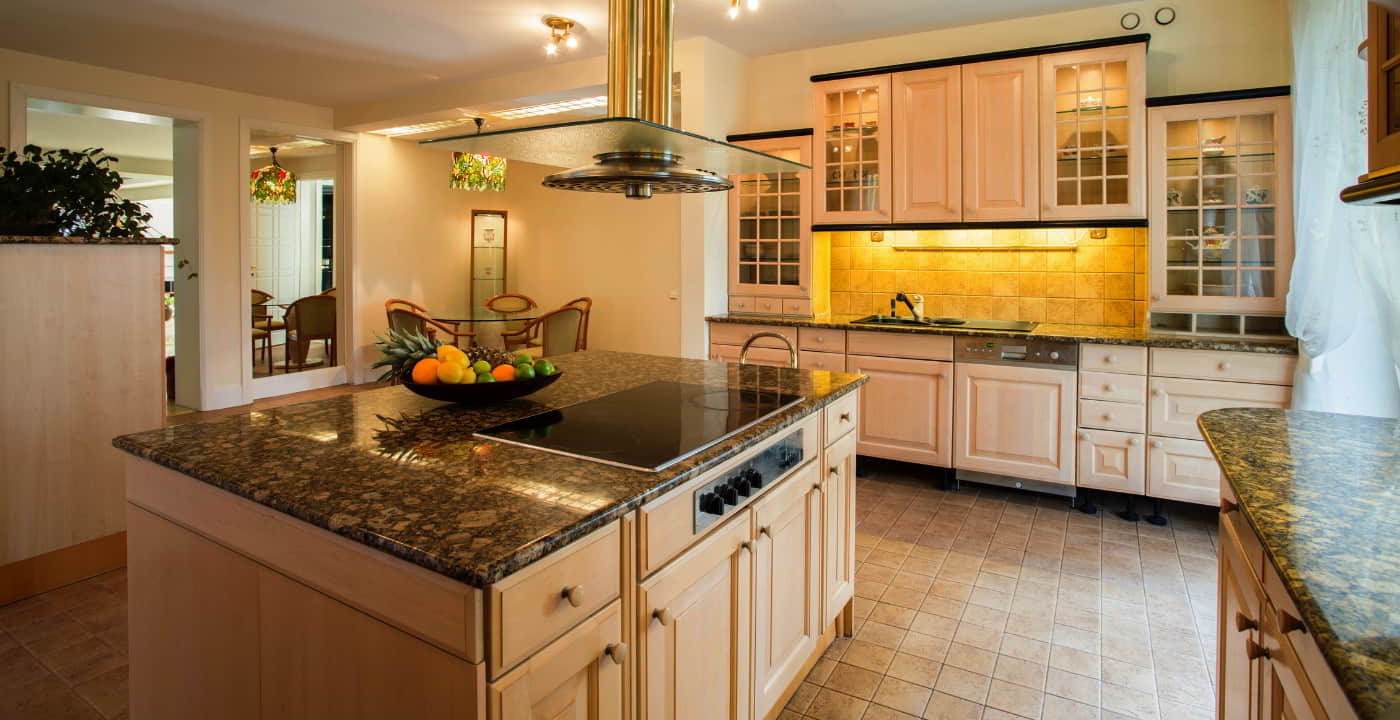 Choosing the right kitchen worktop is one of the most important aspects of your kitchen renovation. The best kitchen worktops are those that are durable and easy to clean, but also beautiful to look at.
We spend a lot of time in our kitchens so it's worth investing a little to make sure the kitchen worktop materials are up to the job. They're going to take a lot of battering over the years, with plenty of spills and hot pans to contend with, so let Kitchen Fitters London help you get it right with this helpful rundown of the best kitchen working surfaces.
A Quick Glance at the Best Kitchen Worktops
Want some quick answers? Here are our top picks for best kitchen worktop:
For families looking for a safe and long-lasting kitchen surface, look to

quartz

.

If budget is a primary consideration, then opt for

laminate

.

Brighten the room with modern

toughened glass

.

Seeking a classic, durable, kitchen worktop? Consider

granite

.
Selecting the Best Material for Kitchen Worktops
When it comes to the best material for kitchen worktops, there's no single, hard and fast answer. A lot depends on your kitchen design and planned use, as well as, of course, your realistic budget. There are many different types of kitchen worktops, with advancements in recent years meaning the modern kitchen worktop isn't just the age old choice between wood and marble.
Some factors to consider when selecting your worktop include:
The best kitchen work surface must be able to withstand constant daily use. There are some options that certainly look the part but can have a substantial payoff regarding regular maintenance. Think about your specific kitchen needs – a large family in a sprawling home will have very different requirements to a couple in a small London flat, for instance.
The cost of materials for kitchen worktops can vary greatly. While we always recommend stretching your budget a little for the worktop, as it is one of the priorities when designing your kitchen, it's also very important to be realistic and stay within your means.
Some kitchen worktop options require a little more TLC than others. If your lifestyle is hectic and the idea of cleaning up a spill as soon as it's made feels like a burden, then it's perhaps best to avoid materials that may stain or discolour.
ℹ️
If your worktop needs regular sealing, then that also needs to be factored in.
Choose a style that you are happy to live with, and consider the rest of your kitchen decor and lighting – some worktop surfaces can be very reflective and brighten an otherwise darker room, while others are better-suited to larger kitchens with expansive natural light. Choose wisely.
If budget is your primary consideration, then laminate is often the best choice. With a huge range of styles, laminate offers a low-maintenance kitchen worktop that will suit any room design. It's also a great kitchen worktop option for anyone wanting to mimic the look of one of the more expensive materials on our list.
Laminate is also relatively easy to install, and can be cut and DIY-fitted without any need for initial treatment. It's a great all-round kitchen surface material, and one that's loved by many.
However, where laminate does suffer is with regards to its durability. Heat resistance is relatively low and it can break if abused. Unlike many other kitchen worktops, laminate should never be used as a cutting surface.
Durability: Relatively weak. Laminate has little resistance to heat and steam and cannot be used to cut on.
Budget: From £30 per metre.
Maintenance: Very low. Simply wipe clean.
Style: A huge range of styles to fit any kitchen.
Wood is a longstanding traditional material that is much-loved for its warm, natural feel. For strength, it's better to use sustainably-sourced hardwoods, such as oak and walnut, over softwoods like pine that would struggle with the demands of an everyday kitchen.
Wooden worktops are also a good choice in a mixed worktop material kitchen, with the wood chosen where it best fits for style and usage. Wood does need more care and maintenance than some other kitchen worktop material options, but can be well worth it for the luxury kitchen look it provides.
Durability: Properly sealed and maintained, wood is very durable. However, it should never be cut upon, and it's important to avoid direct contact with hot pans.
Budget: From £150 per metre.
Maintenance: High. Wood requires treating before use and considerable regular care, especially around wet areas. 
Style: A classic luxury look.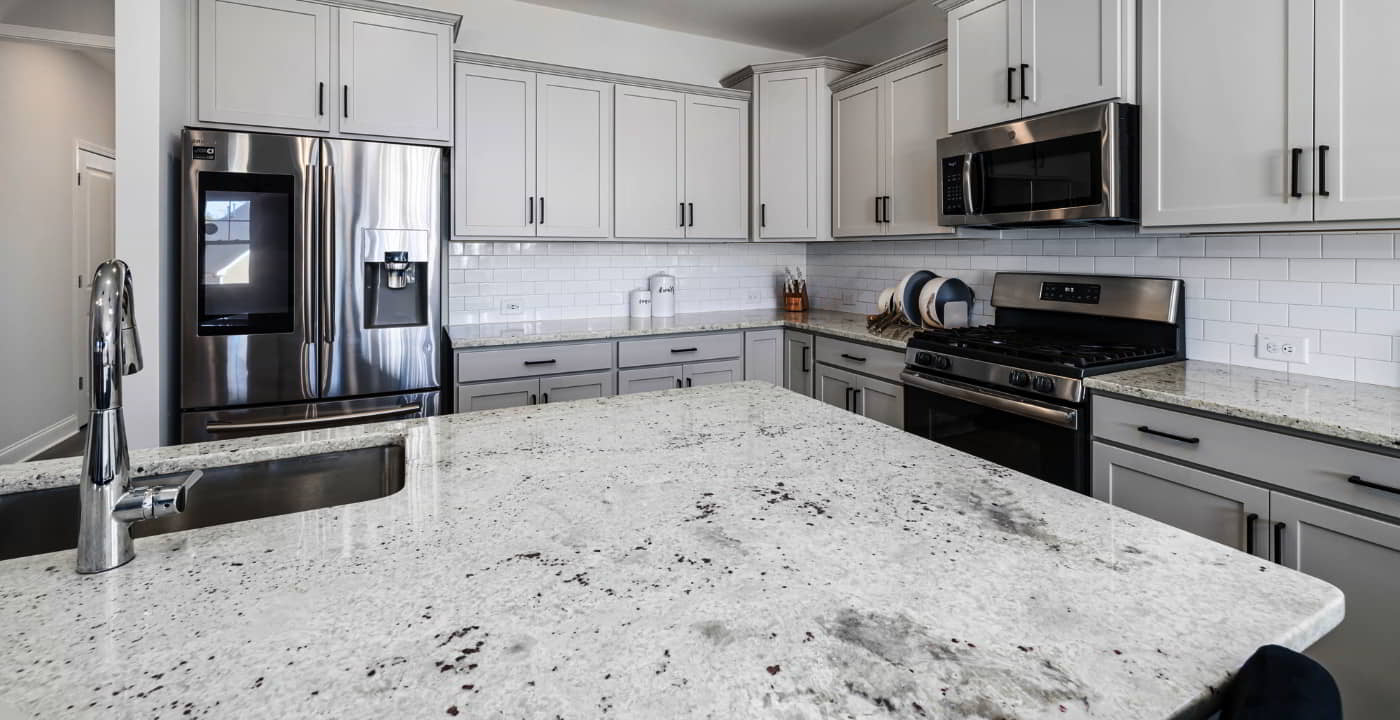 Granite is a classic, beautiful kitchen worktop surface that presents the utmost in luxury. It's strong and generally low maintenance, though it does require minimal amounts of upkeep.
When it comes to style, granite fits with any kitchen. With a range of colours to suit, there are options for both light and dark granites, plus modern tools are able to cut it to any shape making even the most irregular kitchen suitable. 
Durability: Strong. Granite is resistant to water, heat and scratching, though it does require an initial treatment.
Budget: From £200 per metre.
Maintenance: Low. Granite is easily wiped clean, though care should be taken to clean wine and citric acid immediately.
Style: A beautiful, timeless look.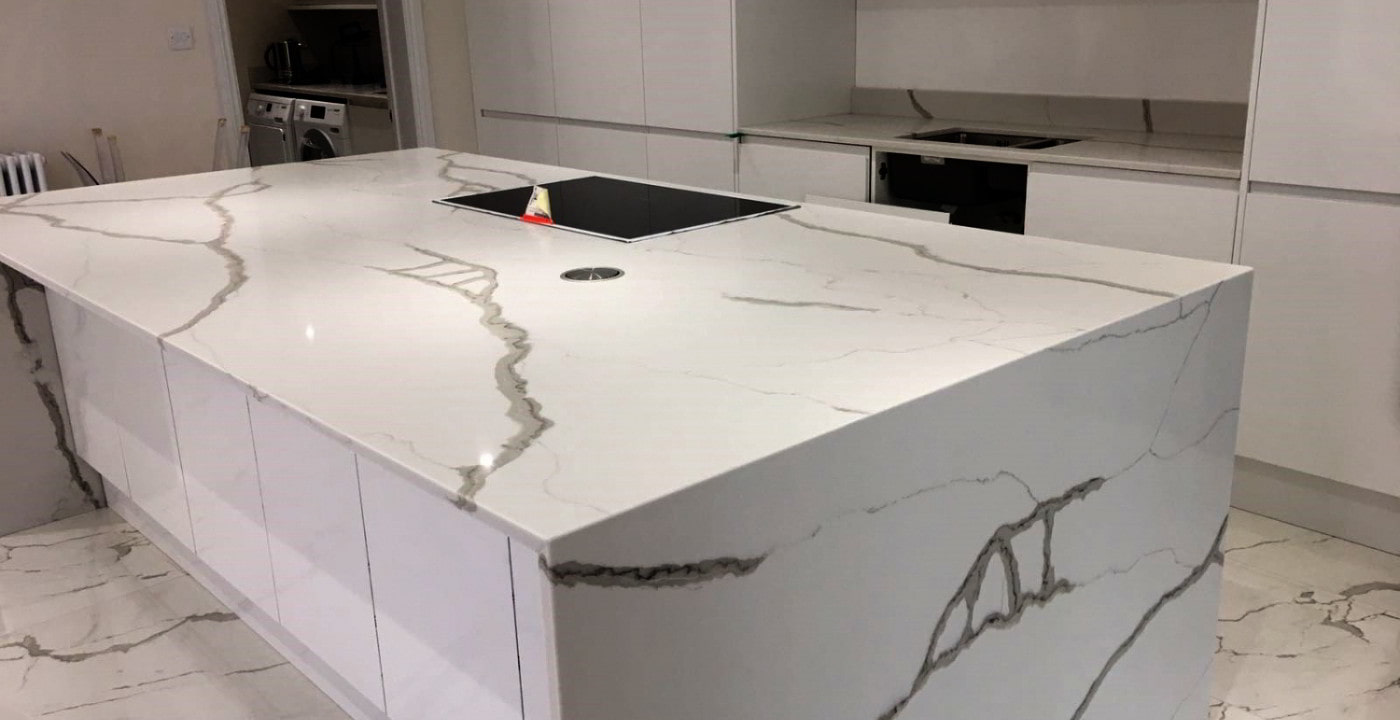 Quartz is growing in popularity thanks to its non-porous anti-bacterial nature. It looks incredible with a large range of colours available to suit any kitchen, and is easy to look after.
Being an antimicrobial material, quartz resists mould and harmful bacteria, making it great for both professional kitchens and larger family homes, alike. It's a great food-prep surface.
Durability: Strong. Quartz doesn't scratch, crack or chip easily and is completely waterproof.
Budget: From £200 per metre.
Maintenance: Very low. Wipe clean with a damp cloth.
Style: A modern stone surface that can be coloured to fit.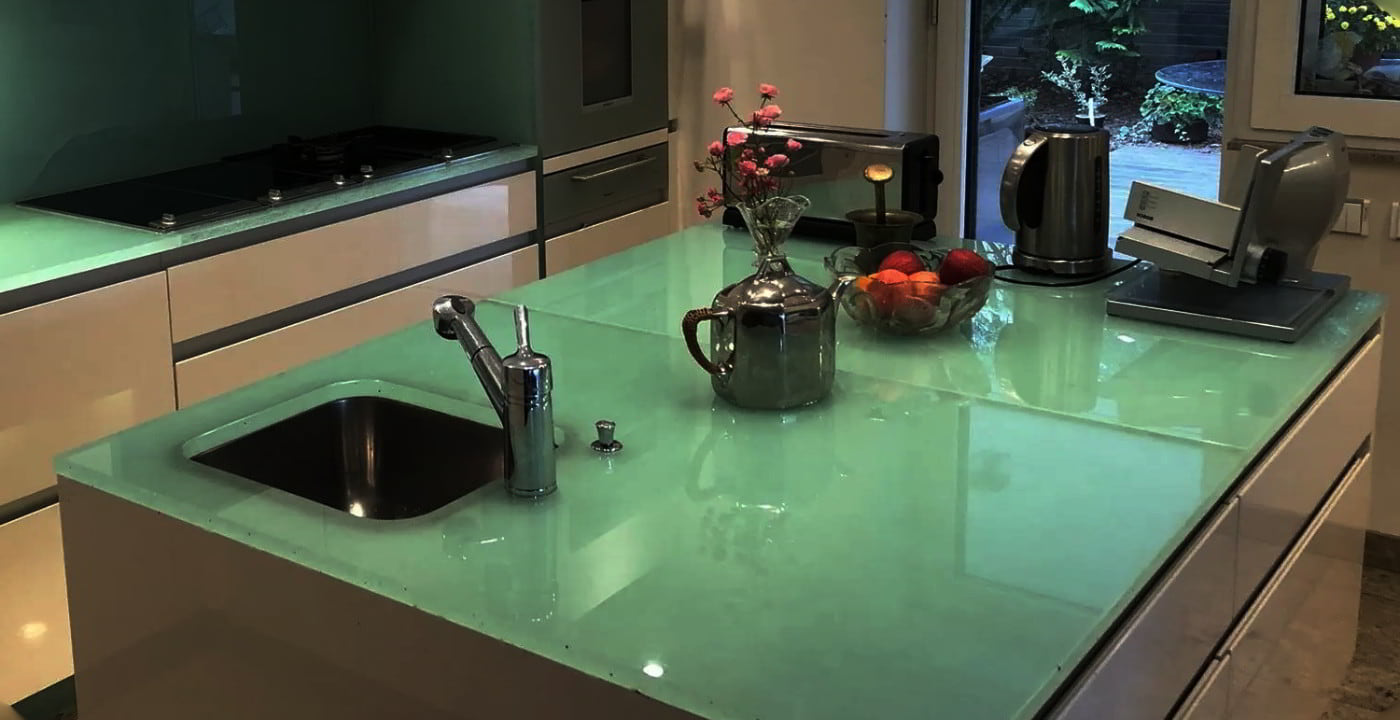 Toughened glass provides an impressively durable kitchen worktop. With an incredible level of reflection, it is a perfect countertop for kitchens that are looking to make the most from the available natural light and can bring the feeling of space to even the smallest of rooms.
Being non-porous like quartz, glass is a very sanitary worktop material which is cut to shape with few joins, making it a very practical kitchen top. It is, however, one of the more expensive kitchen worktop materials, and so is unsuitable for those on tight budgets.
Durability: Strong. Toughened glass is heat-, water-, and acid-resistant.
Budget: From £300 per metre.
Maintenance: Moderate. While glass is easily wiped clean, it will pick up marks and occasional scratching and may need polishing to maintain the sheen. 
Style: Bright and reflective, but with a huge range of styles and colours.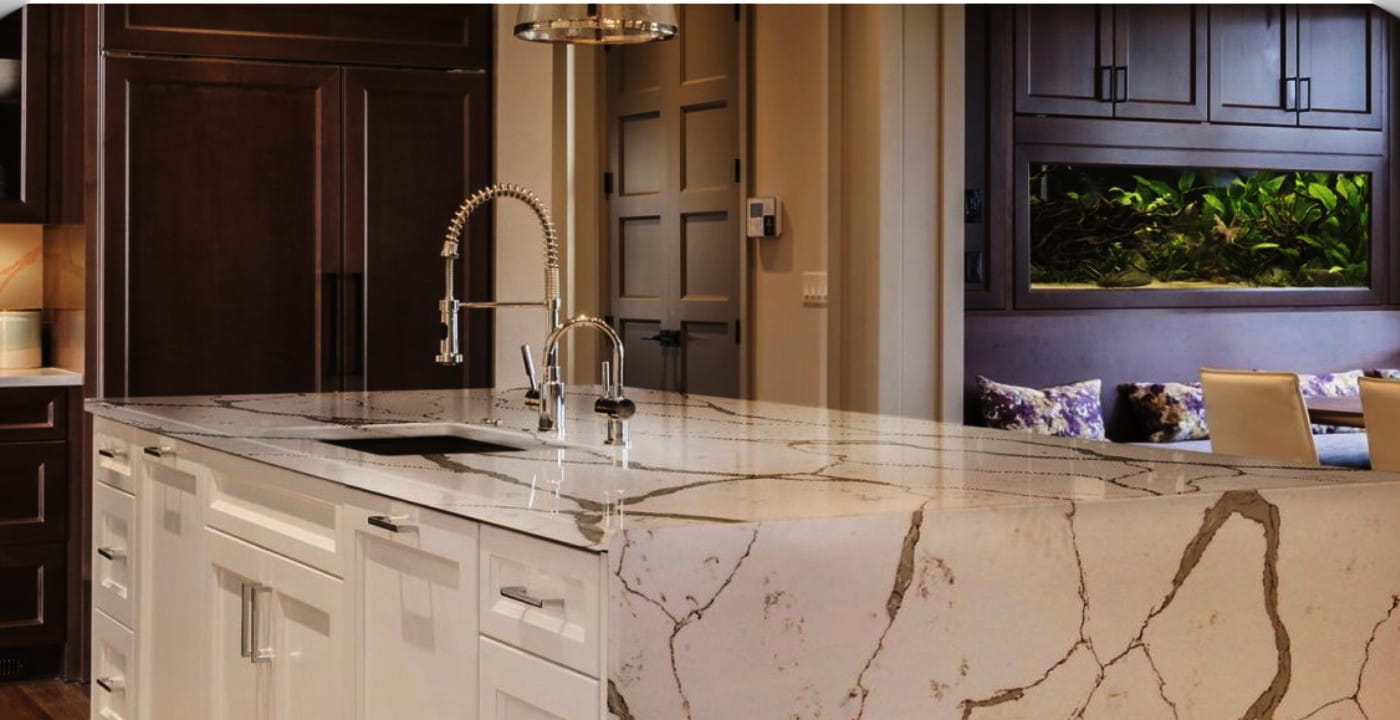 A solid-surface worktop is one made from a mix of resin, minerals and colours and can be shaped as needed for the kitchen design, with curves and seamless lines. Corian has made a name for itself in this niche with its impressive range of excellent solid-surface kitchen worktops, and remains the market-leader for this type of modern kitchen worktop.
A key selling point of a Corian worktop is the flexibility of design available. Its modern sensibilities are shown with extras such as contemporary embedded LED lighting, wireless Qi phone charging, and the ability to be shaped to any design imagined.
Durability: Moderate. Corian is water and heat resistant but care should still be taken.
Budget: From £300 per metre.
Maintenance: Very low.
Style: The most customisable modern kitchen worktop available.
Getting the Best Kitchen Worktop with Kitchen Fitters London
With the many different types of kitchen worktop, there's certainly something to suit any need, from the futuristic feel of a moulded solid-surface worktop to the timeless classic nature of a solid wood or polished granite and, of course, we're here at Kitchen Fitters London to bring your kitchen worktop vision to life.
Contact us today for further help and a competitive quote.