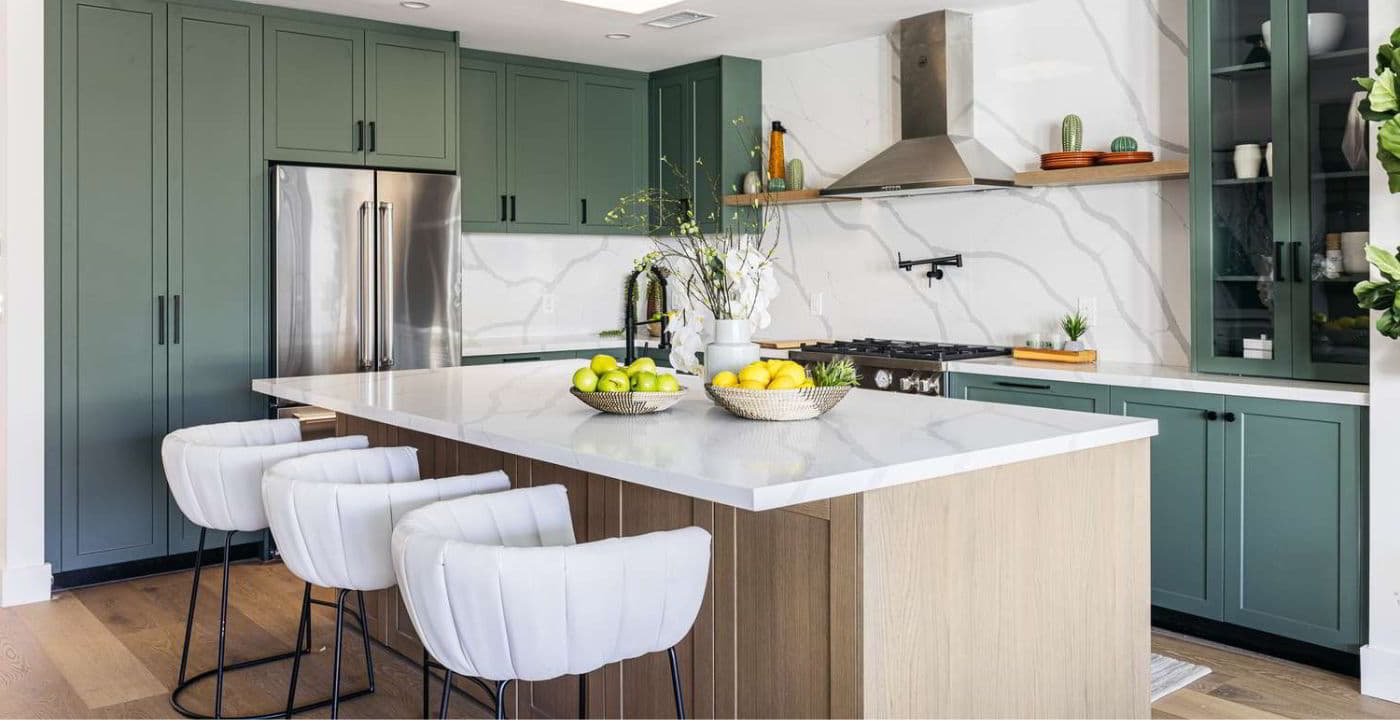 Kitchen preparation space is always a premium. Anyone with a passion for cooking knows the constant desire for just a little more countertop – there's rarely enough! An island in your kitchen is an excellent and popular way to increase that space and versatility, as well as bring a modern design aesthetic to the room.
There are a few factors that you must take into consideration to get the most from a kitchen island, however. So, without further ado, here's our quick guide to kitchens with islands.
The Key Points on Kitchen Islands
No time to read everything we have to say? Here are the main things to consider:
Size is everything

. Plan your kitchen island properly with enough distance between the kitchen counters and the proposed island.
Consider functionality

. Do you want a sink on the island? Space for chairs? Power? These all need to be planned and properly taken into account.
Think about materials

. A kitchen island that doesn't fit the rest of the room can be an eyesore. There are many materials available both for worktops and kitchen island cabinets.
Budget accordingly

. A basic island can be installed for around £1,000, but materials and additional labour (such as plumbing) needs to all be considered.
Kitchen Island Size | How Much Space Do You Need Around a Kitchen Island?
The first consideration must always be space. A freestanding kitchen island is there to add functionality to your kitchen, not to make it harder to get around, so it's important to get your measurements right.
While your kitchen island can be of whatever size you choose, in the UK they tend to range from 120 cm to 180 cm in length (that's 4 to 6 feet in old money) and 60 cm to 120 cm in width (2 to 4 feet).
It doesn't matter if you're opting for a small kitchen island or really maximising the size, the minimum space around the kitchen island remains the same.
Minimum clearance (the distance between kitchen counter and island) should be at least 90 cm (about 3 feet) on all sides, but if you can manage more, then 120 cm (4 feet) is preferable.
ℹ️ Take into account the real clearance and don't just measure countertop to countertop; for example, consider protruding cupboard handles or other obstacles.
With all that in mind, the open space you will require for a kitchen island is at least 240 cm wide (8 feet) by 300 cm (10 feet) long. That'll stretch easily to 360 cm wide (12 feet) and 420 cm long (14 feet) if you are looking for a really impressive size with plenty of clearance.
While it's possible to squeeze a small kitchen island in less space, we don't really recommend it.
Kitchen Island Functionality | Just What is a Kitchen Island for?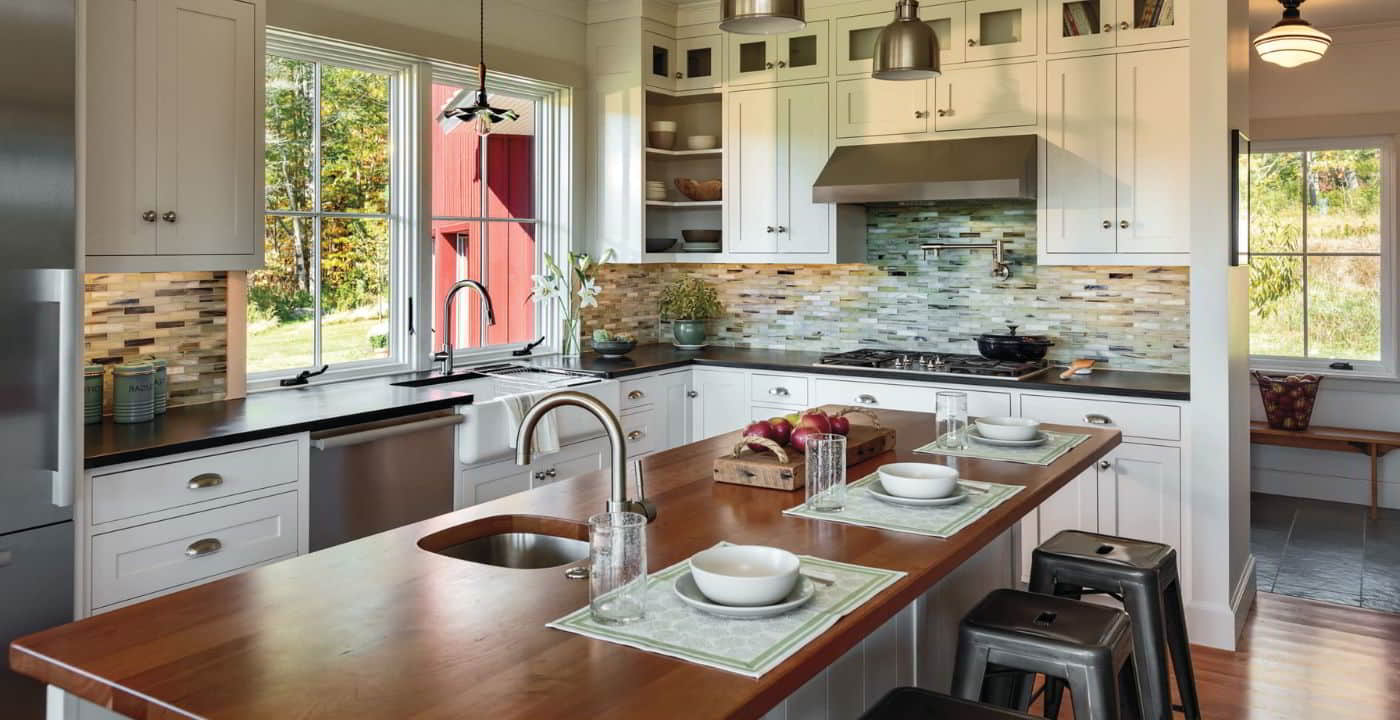 A kitchen island is not simply there as a style choice; it's a functional part of the working kitchen, so it's important to make sure when designing your kitchen with island that you properly consider what you want the island for and anticipate any potential issues.
The Kitchen Island as Workspace
A basic island is one that is primarily additional countertop space. Not wanting to waste any of the space in the kitchen, these almost always come with under counter cupboards or drawers. The two to four square metres of additional workspace will make any enthusiastic cook happy, while the extra cupboard space from kitchen island cabinets is always welcome.
But why stop there?
Kitchen Islands with a Sink
Many kitchen islands also include a sink. This can be either a secondary sink or the main kitchen sink if the design suits. Having a sink placed centrally in the kitchen is extremely useful when considering the 'kitchen work triangle' – the position of sink, cooker and fridge. These three points are those most often reached for by cooks when preparing meals and ensuring they are close together improves kitchen workflow and makes cooking easier.
Opting for an island sink is also more sociable, with the busy cook or washer-upper able to see over the counter to chat to other people in the kitchen; far better than staring at a wall or out of the window.
But a kitchen island sink requires plumbing. Not usually overly complicated plumbing, but certainly plumbing that needs to be properly planned. With the island alone in the centre of the room, all pipes have to be fitted under the floor – a simple act when the whole kitchen is being refitted, but a little more difficult if everything is already installed. Make sure to take plumbing into account when designing the kitchen with an island.
Kitchen Islands with Power
Power is by no means assumed when installing a kitchen island, but it's a regular feature that must (like plumbing) be properly planned. Like plumbing, electrics must be laid under the floor to reach the island (although some styles do allow for cabling to come down from the ceiling).
Adding power to the kitchen island is a huge advantage. Appliances such as food processors and blenders can be operated from the central space, microwaves can be fitted into the island under the countertop, and the simple act of having sockets on the countertop is useful for simple things like charging a phone.
Another modern touch for the island is the installation of fitted lighting into the island. Contemporary LED lights can be controlled to add warmth to the kitchen in the evening, or act as a brighter light source when needed for functionality.
Some open kitchen designs promote installing an oven and hob into the island. Doing so shares many of the benefits found when adding a sink to the kitchen island, aiding in the general workflow of the kitchen as well as making cooking a more sociable affair.
Obviously, if you are wanting an oven in your kitchen island, consideration must be given to both power and gas (if relevant).
A Kitchen Island with Seating
Not all kitchen islands are used primarily as work surfaces. Many kitchen designs opt to use the island location for seating. In this way, the kitchen island becomes a dining table (and, indeed, many designers consider a centrally-located dining table as a kitchen island).
Another version of the central kitchen island table is to have higher seating such as bar stools, and design the kitchen island as a multi-purpose central table and work top. 
Care must be taken to properly incorporate space for knees and legs, meaning the kitchen island cabinets are often recessed a little, but these multiple use islands have become more common in recent years.
The Cost of Kitchen Islands | Is it Expensive to Add an Island to a Kitchen?
Like most things, it's possible to spend a considerable amount designing and installing your perfect kitchen island. With a range of materials to choose from for countertops, as well as plumbing and power considerations, some high-end kitchen islands can cost more than £8,000 to install.
However, a more basic kitchen island can be installed for as little as £1,000.
At Kitchen Fitters London, we offer competitive prices to design and install your island, but we do recommend you budget to ensure your island fulfils your needs (both now and future), and complements the style of your kitchen. It is rarely satisfactory to add a kitchen island that doesn't add the functionality that's really desired or looks out of place.
Kitchen Islands Styles | What Materials Should You Choose for a Kitchen Island?
Modern kitchens are a strong feature in your home and a well-designed kitchen with an island can add considerable value to the property.
When designing your kitchen island and choosing materials, consider the style of the kitchen and your house as a whole, and match accordingly. Of course, many kitchen islands are added as part of an overall kitchen refit, giving you the freedom to redesign the entire kitchen as a whole and make the best use of the island.
For more information regarding kitchen worktop materials and what might be the best for your kitchen, why not read our in-depth article?
Fitting Your Kitchen Island
At Kitchen Fitters London, we have experts on hand, ready to help and advise you on every aspect of your kitchen island. We will discuss your needs, whether they be for an island sink or just to work out the kitchen island size, and work together to make sure you get the kitchen you really want.
Contact us today for a no-obligation quote.